Introduction
Babcock International is able to tackle the huge task of licence checking over 9,000 drivers, including a 1,000 strong grey fleet, thanks to the services provided by Glasgow-based DriverCheck. DriverCheck are part of the Ebbon Group, the UK's largest driving licence checking and vehicle compliance business.
Babcock is an aerospace, defence and security company, with a leading naval business, focused on providing value-add services across the globe.
The FTSE- 250 listed group, which pledges to achieve net zero carbon emissions by 2040, operates over four divisions: Land, Marine, Nuclear and Aviation. Their turnover for the financial year ending March 31st 2021 was £4.183 billion.
The Babcock UK fleet comprises 1,100 company vehicles, 50:50 cars and commercials, leased from Lex Autolease, plus a further 1,000 grey fleet cars.
Whether inside the company car scheme or taking cash to fund their own vehicles, Babcock drivers have their licences checked at least once a year. Drivers deemed a high risk or with penalty points may be checked up to three times per year.
The total number of drivers requiring licence checking to remain legally compliant totals around 9,000 – with several thousand more currently being added.
"It would be a huge task requiring many man hours to handle internally so it's a no-brainer to use an external specialist like DriverCheck," said Ian Pinkney, Fleet and Mobility Manager at Babcock.
Since the Covid-19 pandemic, which saw many of its company cars parked up on driveways around the country and more staff take cash allowances in lieu of a car, Babcock has witnessed some 97% of new car orders placed being either battery electric vehicles (BEV) or plug-in electric hybrid vehicles (PHEVs) as more drivers have returned to the company car scheme lured by ultra-low Benefit-in-Kind tax rates.
The business is in the process of launching a new salary sacrifice car scheme for BEVs and PHEVs in conjunction with leasing and fleet management specialist Novuna Fleet Solutions.
"We are seeing more drivers coming back into the company car scheme due to the very attractive BIK rates on electric cars as business miles return to near normal. I think it's fair to say that the numbers of licences we will need checking will only increase, as we add more drivers to our database as a result," said Ian Pinkney.
Another factor in the requirement for clearly transparent and auditable licence checking is the company's insurers, Aviva, which review the fleet on a regular basis. "They are very keen to see our licences are checked professionally to ensure we remain legally compliant in a totally transparent manner," said Pinkney.
By using DriverCheck services, Pinkney is able to manage the huge number of drivers via exception reporting, with regular alerts from DriverCheck highlighting any areas that require immediate attention.
These might include those drivers whose 10-year photocard licences have expired and need renewing, to those whose licences are reaching high levels of penalty points. There are also a small number of HGV drivers on the Babcock fleet who need to renew their CPC licences on reaching age 45 and require them checked on a regular basis.
Joining the Babcock driver database is a very straightforward process as new drivers are onboarded using e-mandates, although for some field staff without computer access a small number of paper mandates are still required.
"By managing via exception reporting and onboarding most staff via e-mandate, we are able to make huge savings in time, administration and internal staff costs.
"The use of DriverCheck gives me peace of mind that we are legally compliant at all times, and that we are meeting our duty of care obligations to our staff and the wider public as driving still remains the most dangerous thing that most of us will do on a daily basis," added Ian Pinkney.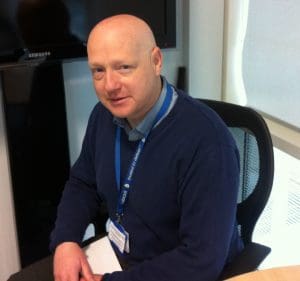 About DriverCheck
With over 15 years of experience, DriverCheck is part of Ebbon Group, the UK's largest driving licence checking and vehicle compliance business. The team works together to provide a trusted, professional, personal service, designed to meet the needs of your business.
DriverCheck provides online automated technologies and services to reduce the risk of illegal, unlicensed drivers, while ensuring the safety of road users. We handle all UK and foreign licence checks.
About Ebbon Group
Ebbon Group is well established as a provider of hosted, web-based technology solutions to the automotive contract hire and leasing community. For around 20 years, the company has focused on connecting and automating the fleet community with an increasing range of platforms.
The company, which is owned by a private equity group, has an international presence in the Netherlands and Germany, and through partners in Italy. In the UK it has acquired the Licence Check and Driver Check vehicle licence checking businesses.
You can read the News Story here.